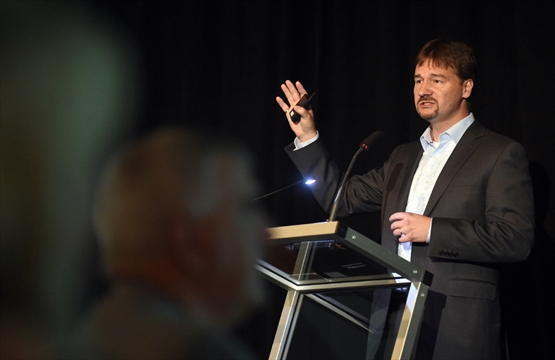 Steve Malinowski, CEO of the Kraus Group of Companies, speaks at the Manufacturing Summit in Waterloo on Tuesday.
WATERLOO — As the impact of the 2008 recession set in, things looked dismal at the struggling Kraus Flooring business.
The family-run company, established in 1959 by Michael Kraus, had grown into one of the top carpet and flooring manufacturers and distributors in North America, with divisions in Canada and the United States. But it carried a lot of debt, and when the housing crisis and economic downturn happened, things took a turn for worse.
Kraus went into receivership in 2012 and was sold to Hilco Capital Canada, a subsidiary of a British firm that specializes in investing in businesses in financial distress.
Employees were worried. "There was widespread fear in the company that we would not survive," said Steve Malinowski, who was brought in as the new chief executive officer to turn the place around.
Malinowski, who has a diverse history in manufacturing, including running a large hog slaughterhouse in Winnipeg and a Mississauga company specializing in frozen foods, did turn it around. He told the Kraus story on Tuesday at the Manufacturing Summit hosted by the Greater Kitchener Waterloo Chamber of Commerce at the Waterloo Inn.
The company, which has about 700 employees, about half of them in Waterloo, returned to profitability in 2013. Today, it as a "healthy" business, Malinowski said.